(S06E04) Previous Episode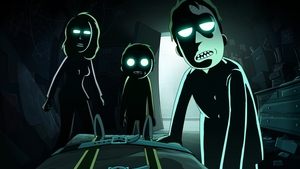 Aired On 2022-09-25
The family discover Rick has been using some new technology that they want to try too. After obliging, classic Rick and Morty chaos ensues.
Next Episode (S06E05)
Airs On 2022-10-02
The Smiths dine at their favorite Chinese restaurant and read their fortune cookies aloud. Pretty normal stuff - until Jerry reads his.
Rick is a mentally-unbalanced but scientifically gifted old man who has recently reconnected with his family. He spends most of his time involving his young grandson Morty in dangerous, outlandish adventures throughout space and alternate universes. Compounded with Morty's already unstable family life, these events cause Morty much distress at home and school.
Writing:
Dan Harmon
Rufino Camacho
Justin Roiland
Stars: